Ohakune is the perfect base for adventure and leisure activities: you name it, we've got it – whether that's walking, cycling, fishing, exploring Mt Ruapehu, visiting art galleries or entertaining the kids. Check out our roundup of activities to choose from when you choose Manuka Lodge in Ohakune as your accommodation base.
Walks
There are so many stunning walks very close to Ohakune. Some tracks branch off the winding Ohakune Mountain Road, such as the Waitonga Falls (a gorgeous and easy alpine walk to a stunning waterfall) and the Mangawhero Forest walk (a showcase of the local native flora). You can trek through a volcanic wonderland to Lake Surprise (a 5 hour return walk) or through ancient beech forests to sacred Lake Rotokura. You could cross the historic vertigo-inducing Hapuawhenua viaduct (which was where AJ Hackett ran New Zealand's first bungee jump in 1987). Or you could stick to Ohakune township itself – follow the gorgeous riverside walk towards the mountain to the other end of town. See our blog Great short walks around Ruapehu for more information and more ideas for walks.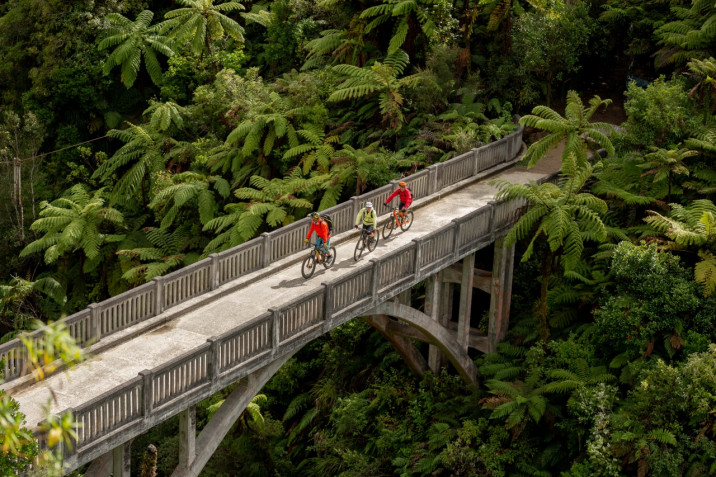 Cycle Trails
The 15km Ohakune Old Coach Road walking and biking trail was brought to life in 2002, from the remains of the cobblestoned road that used to link the two railheads from Auckland and Wellington. From 1906 to 1908, passengers wanting to travel from Wellington to Auckland would disembark at Ohakune, stay at the Kings Hotel or Turoa Lodge, then take a horse and carriage through Tongariro National Park to Raurimu to catch the train north. Along the cycle trail today, you will cross the Hapuawhenua viaduct, passing through lush forest and rolling farmland. Riding it in the Horopito to Ohakune direction will give you more downhill (you can shuttle to the Horopito end).

For the more advanced cyclists, the Mangapurua Track is an incredible experience. This fantastic day ride starts with you being dropped off into remote country by shuttle, then riding up and over the Mangapurua trig (this bluff can be treacherous, but nervous riders may walk it), and down onto the Whanganui River. We can even help you organise a jetboat that will take you and your bikes down to Pipiriki. More info on the ride can be found on the DOC website.



Whanganui River
The Whanganui River is the definition of mystical beauty with its deep gorges and lush forests. It makes for a spectacular multi-day canoe or kayak trip, but for a one day trip, you can take a jet boat up the river to the historic Bridge to Nowhere. Your jetboat hosts Josephine and Ken of Whanganui River Adventures are descendants of builders of the bridge, giving this tour a warm personal touch as you learn about the history of this mysterious infrastructure. The jetboat also stops at a marae, a filming spot in the movie River Queen, and shows you a place where a historic ambush took place. There is an option on the tour where you can canoe the last 10km of the river back to Pipiriki on the way home.
Scenic Drives
The Ohakune Mountain Road is one of the most scenic in the country, 17km long and climbing more than a 1000m in altitude. It takes you through a subtropical zone at first, but gradually the vegetation becomes alpine as the road approaches the skifield area. In winter, the road can be choked with ski traffic – but on a summer's evening, with an amazing sunset, it would be hard to find a better scenic drive.
Ruatiti Domain
Almost a local secret, Ruatiti Domain is a popular fly-fishing and summer swimming spot on the Manganui-o-te-Ao River. The tranquil domain is surrounded by beech forest, with gorgeous parkland for camping and sandy beaches on the riverbank. It also has BBQ areas. Take the picnic, the kids, and the sit-on-top canoe for a fun and relaxing day out.
Hunting
The Ohakune surrounds is a phenomenal hunting area, whether you're after deer (fallow, red and sika can all be found here), goats or pigs. The Erua Forest and Rangataua Forest are on Ohakune's outskirts, and the Kaimanawa Ranges are not far away – note hunting permits are required for hunting on public conservation land.
Army Museum
The National Army Museum in Waiouru is fantastic if you're looking for an indoor option on wet days – even for people who are not into museums or the army. All ages will be impressed by the information and stories around the collections. There are imposing tanks and gun collections. There is a research centre where you can look up your relatives who may have served. There is even a mock up of a war-time military hospital (including a disinfectant smell).
Carrot Park
This award-winning park was developed in recent years by the community, complete with a children's play area, outdoor gym, an obstacle course, and gorgeous gardens with lovely riverside seating areas. Ohakune is of course known as the "carrot capital" because carrots have grown extremely well in Ohakune since the 1800s, when Chinese market gardeners pioneered the crop here.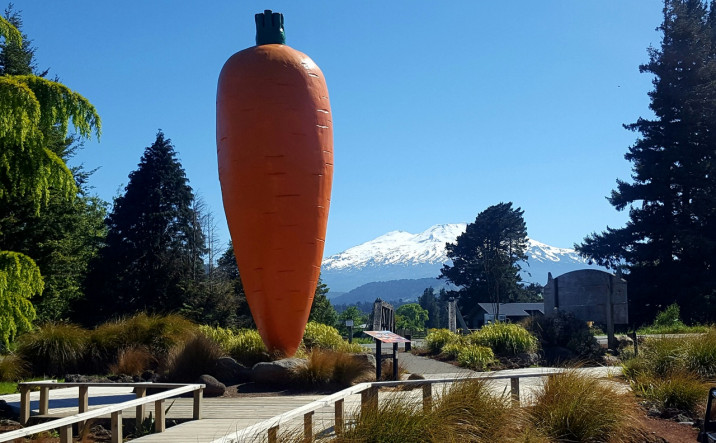 Dinosaur House
This tiny gem of a museum in Raetihi has rooms crammed with exhibits and facts, so it's a great activity for the family and has generated quite a buzz as something to do on a rainy day. The hosts are passionate and friendly, and the exhibits range from dinosaurs to the actual costume worn by Sam Neill in Jurassic Park III.
Vertigo Clip and Climb
This indoor rock-climbing facility in Ohakune is a great way to let the kids burn some energy for an hour on a rainy day – there are many differently graded climbs for different abilities.
Raetihi Arts Trust Gallery
In 2019 the old BNZ building in Raetihi was restored to create a stunning art gallery to showcase artists both local and out of town. Information on current exhibitions can be found here https://www.visitruapehu.com/things-to-see-and-do/all-activities/raetihi-arts-trust-gallery/