So you're wanting to book a weekend getaway in the central North Island? How about stunning mountain views, world class tramping, historic railway viaducts, waterfalls, and massage therapy? You can't go past Ohakune to deliver all this and more. We've come up with the ideal weekend itinerary for a weekend here in our special town and surrounds.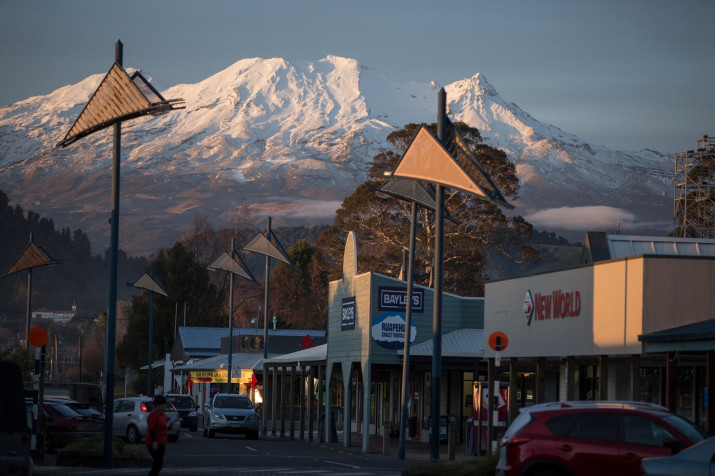 Friday
Arrive 4pm: check in to your accommodation at Manuka Lodge, and sit down with Alan and Susie (your hosts) for a tea/coffee & chat about your stay.

Head out for dinner at the Cyprus Tree. The lamb rump (with vegetables and jus of your choice) is always good, and the owner's interest in good wines means the wine list is ever changing and always interesting. It is a casual but lovely atmosphere: dress up or dress down, whatever you are in the mood for.
Saturday
Start with a Manuka Lodge breakfast to set you up for the day. We offer a cereal buffet with muesli, yoghurt and fruit, or for a heartier option you can choose from a full English breakfast, or French toast with bacon, banana and maple syrup (we also cater for any diets: gluten free, vegan etc – just ask us for our options) We bake our own bread, and our eggs are locally sourced.
In the morning: explore the Ohakune Mountain Road. This spectacular road that winds up Mt Ruapehu also links you to many short walks and sights.

At the bottom of the Ohakune Mountain Road is the Mangawhero River Walkway, an easy track winding alongside the river. It takes in beech trees and views of the mountain and countryside, and restoration efforts on the riverbanks are bringing back native birds.

At the 11km mark up the Mountain Road, the Waitonga Falls track is a gorgeous walk in crisp alpine air, the 1.5 hour return track leading you through forest, alpine tussock and scrublands, beautiful views, boardwalks, to a stunning waterfall.

The Mangawhero Falls is an easy 5-10 minutes from the carpark at 16km up the road – these falls can be ringed with icicles in the winter, and the track takes you through beech forest stunted by the low temperatures. For movie buffs, the Ithilean Camp in Lord of the Rings was filmed near these falls, a scene where Gollum caught a fish was filmed above the falls, and "the Forbidden Pool" was filmed in the falls.
Lunch at EAT café: this great café has recently changed its menu to vegetarian and vegan – and chef Dawn from New York has always made very high quality and delicious food in a New York deli takeaway style. All her ingredients are locally sourced. For those who prefer a meat option, Utopia Café is just next door, or The Mountain Rocks café and bar is a one-minute walk.
In the afternoon: Hire an e-bike and ride the Ohakune Old Coach Road trail. Taking an e-bike along this 15km trail and back is an easy but interesting ride: you'll cross high above the trees on a historic wooden viaduct and pass through lush native forest and farmland. The Old Coach road was for a while an important 15km link between two railheads before they were connected by the Raurimu Spiral. From 1906 to 1908, passengers wanting to travel from Wellington to Auckland would disembark at Ohakune, stay at the Kings Hotel, then take a horse and carriage through Tongariro National Park to Raurimu to resume their train journey north. But when the railways were eventually linked, the Old Coach Road fell into disuse. It wasn't until 2002 that it was turned into a walking and biking trail, after the locals started to uncover parts of it, including the original cobblestones in places.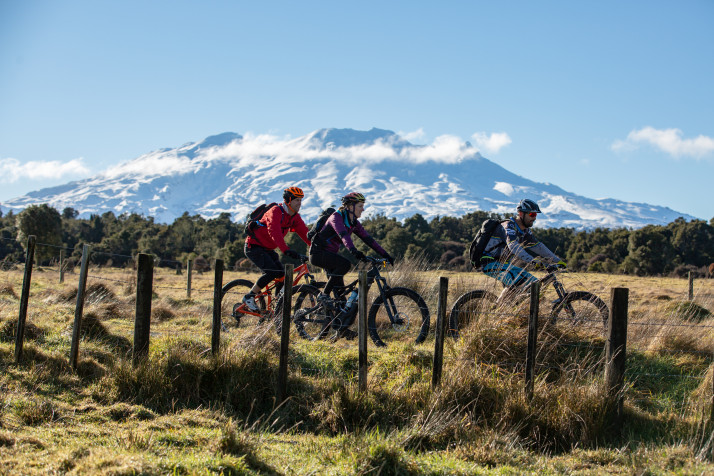 Evening drink in the Manuka Lodge spa pool. After a day of walking and cycling, having a cold beverage while you soak in our spa pool is highly recommended and always popular with guests.

Dinner at Osteria: a 10-minute walk from the Manuka Lodge, this Italian restaurant always gets rave reviews on quality of the meals, the friendly atmosphere, and the great service.


Sunday
A sleep-in and a relaxed breakfast.

Go for a massage at Manuka Natural Therapies. This clinic is right next door to Manuka Lodge – with a professional and friendly sports massage therapist who can find any aching or pulled muscles from your weekend adventures and sort them out. The clinic also has a sauna available for use.

Check out of Manuka Lodge
ALTERNATIVE SATURDAY ITINERARY
During the summer months (November to April), dedicate your Saturday instead to one of New Zealand's most impressive and diverse day hikes, the 19.4km Tongariro Crossing. Here at Manuka Lodge we offer a Crossing package, which includes two nights' accommodation, a packed lunch, and a shuttle service to and from each end of the track. The Tongariro Crossing is incredible but tough; and the spa pool back at the Lodge afterwards will certainly hit the spot.