Mt Ruapehu - Accommodation - Bed and Breakfast - Ohakune - Manuka Lodge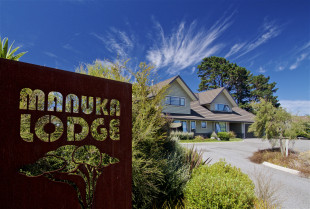 Welcome to Manuka Lodge, bed and breakfast. A modern and luxurious accommodation in Ohakune town; nestled under the majesty of Mt Rupaehu, on the south western corner of the unique and spectacular Tongariro National Park and World Heritage area...
You are woken to the sound of native birdsong. Outside it is a calm, crisp, blue-sky morning perfect conditions for a day on the slopes. Excitedly you swing your legs out of bed, stretch your Achilles and head for a shower. The only thing between you and the ski fields on Mt Ruapehu is the quality breakfast which awaits you. Wafting aromas of bacon, home baked bread and fresh hot coffee greet you as you eagerly pull on your clothes. It's going to be a great day..!