The Bridge To Nowhere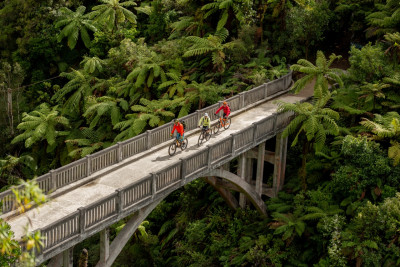 This large concrete bridge is an icon within the Whanganui National Park and a major visitor destination. The bridge was constructed in the mid-1930s to provide road access to the lower and middle valley farms known as the Mangapurua Valley Soldiers Settlement. Unfortunately though by the time it was completed these areas of the Mangapurua Valley were all but deserted, the bridge rarely used and the construction of the road to the Whanganui River abandoned. The 'Bridge to Nowhere' is the largest and most intact structure relating to the former Mangapurua Valley Soldiers Settlement and has an Historic Places Trust Category I listing.
The best and quickest way to see this bridge is by taking one of the day trips on offer from the Whanganui River. This fascinating tour departs from Pipiriki with a 55 minute jet boat journey upriver which takes you 32 kms deep into the Whanganui National park to the Mangapurua Landing. You will pass through an area of spectacular natural features with deep river gorges covered with green tree ferns and lush native vegetation. Your guide will then take you on an easy grade 40 minute walk from the Mangapurua landing following in the footsteps of the early pioneers along the old roadway to the famous bridge where you will stop for lunch on this historical monument of a bygone era and learn the history and unique story of how the bridge came to be. Also if you want to slow down and really drink in the river without the noise of the jet-boat, there is an option to hop in a Canadian canoe and paddle the last 10kms of the river back to Pipiriki.
---
For more information:
Visit: https://www.whanganuiriveradventures.co.nz
---