Tongariro Alpine Crossing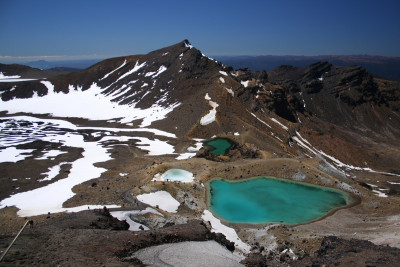 The hype proclaims the Tongariro Crossing to be the best one day hike in New Zealand. It is certainly a unique day out, nowhere else can you experience such otherworldly landscapes. In a country proliferating in such an extensive variety of scenery, the Tongariro Crossing stands out as extraordinarily diverse.
Tongariro National Park World Heritage Site is a large area (796km2) of central North Island high country. It is volcanic, comprising principally three mountainous volcanic peaks: Ruapehu, Ngauruhoe and Tongariro. Mt. Ruapehu is the highest peak in the North Island and is a truly bulky colossus. There are spectacular views of the three peaks accross Lake Taupo in the north and on a clear day the broad summit snows of Ruapehu are visible from Foxton, 200km down the Kapiti Coast in the south. Mt. Tongariro has a relatively indistinct, flattish summit which forms the rim of the remarkable South Crater, now an extinct remnant and the oldest feature in this part of the National Park. Mt. Ngauruhoe has taken over as the main active vent for the time being and in the last 2500 or so years has periodically thrown out volcanic bombs to create a classic, near perfect volcanic dome which has become iconic as the inspiration for Mt. Doom in the Lord Of The Rings movies.
The Tongariro Alpine Crossing threads its way through the high country between Mount Tongariro and Mount Ngauruhoe. It is 18km in length and has a height gain of 750m. For the averagely fit it constitutes a fine day out in the Tongariro National Park, usually taking between 6 to 8 hours. This time frame allows for steady plodding up the steeper sections, and time spent amidst the scenery retrievig your jaw from the ground. For the super fit and keen, it is possible in addition to climb both mountain summits; you need to set aside an extra 2½ hours for the climb up Ngauruhoe, and a further 1½ for Mount Tongariro.
Although the Crossing is easily accessible, it should not be underestimated. The entire length of the hike is at or well above 1000m, passing through volcanic terrain which has almost no vegetation. It is extremely exposed to the weather, and is particularly hazardous in windy conditions. Trampers must be prepared. See the Department of Conversation website for further information.
The Tongariro Crossing is a linear walk, starting and finishing in separate, equally remote locations. For this reason trampers invariably choose to utilise the shuttle service, which picks up and drops off at your door. Departures from Ohakune are at 7.15am with Dempsy Shuttles or Matai Shuttles. These shuttles can be organised for you very easily by us here at Manuka Lodge.
---
For more information:
Visit: \"http://www.doc.govt.nz/parks-and-recreation/tracks-and-walks/central-north-island/ruapehu/tongariro-alpine-crossing/\"
---