Whanganui river journey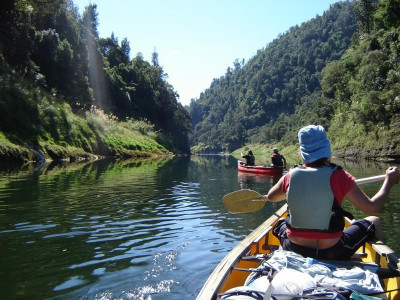 Visitors to New Zealand are invariably drawn to the South Island. It contains the grandest scenery, the emptiest roads and generally delivers a maximum score in all things leisure. There is no argument in this. It's also got the most sheep (and seven more possums too). However, it's worth pointing out that if the South Island didn't exist, the North Island would still stand up as a major world destination. From those trees of truly humbling girth in Northland, through the Maori cultural and thermai hotspot of Rotorua to the spectacular volcanoes of the Tongariro National Park, it can claim numerous features and attractions found nowhere else in the world. And the Whanganui River is a true treasure among these.

The third longest river in New Zealand, the Whanganui rises on the slopes of Mount Tongariro, winding off the Central Plateau west down to Taumarunui, where it gains stature before turning south to snake its limpid way through thick native forest to Wanganui town and the sea. Much of its 290km is navigable; the river was an important transport link long before road and rail connections were engineered through the landscape. It therefore has a rich history and is steeped in Maori mystique.

Today, the Whanganui River Journey, although a canoeing trip, features amongst the Department of Conservation's nine Great New Zealand Walks. It is possible to canoe or kayak all of the 234km from Taumarunui to Wanganui, a trip of around 8 days. Shorter trips can be contrived by entering/exiting at various points, making any length of trip possible, from one day upwards.

A four day journey between Whakahoro and Pipiriki is one of the most tranquil experiences imaginable, passing through spectacular lush gorges and native forest; the only sound that of native birdsong echoing off the rocks. There are rapids periodically along the way, but they are largely benign (Grade 1 or less) and provide momentary thrills to contrast with the brooding magic of the silent gorges. Camp sites containing toilets, running water and a shelter for cooking are set at regular intervals along the river. They are basic clearings in the bush, deliberately under-designed in order not to detract from the feeling of being immersed in the surroundings. You can lie in your tent at night and listen to the sound of time winding back and possums stealing your breakfast.

There is much of interest to discover as you paddle south. Old Maori village sites, river boat landings, caves, waterfalls, a whirlpool, Tieke Kainga Marae, the captivating story of the Bridge to Nowhere, maybe a Taniwha. This is a true North Island journey of discovery – there's nothing comparable down south.

Ohakune is an ideal base for exploring the river. There are companies offering a variety of trips departing from and returning to the town.
---
For more information:
Visit: https://www.canoesafaris.co.nz
---